I am frequently asked this question from people who see an object with staple repairs for the first time. I have spent many years gathering research to illustrate this fascinating topic and will try to demystify the skill and art of staple repair. Below are just a couple of examples but please know that I will be posting more photos and diagrams in the coming weeks.
This illustration, from "If These Pots Could Talk" by Ivor Noel Hume, shows a "nineteenth-century itinerant Chinese repairer using a bow drill and flanked by the work boxes he carried slung on a pole".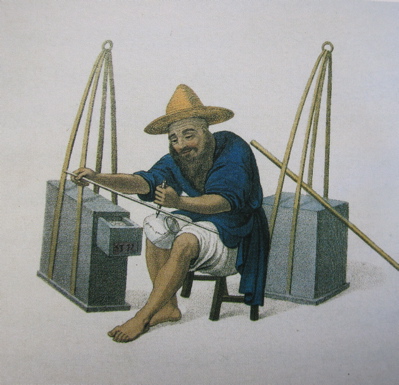 Stills from the Chinese film "The Road Home" (1999) directed by acclaimed director Yimou Zhang (2008 Bejing Olympics, "House of Flying Daggers", "Hero") showing an itinerant pottery mender repairing a broken pot with staples. I highly recommend this film, as it clearly shows the entire repair procedure in a compelling 4 minute scene. If you view the DVD, the scene starts at 51:44 (chapter 15)
An itinerant mender, walking from town to town carrying his tools and supplies, shouts "Pottery repairs!"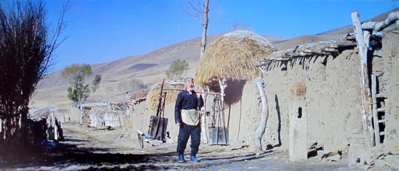 Broken pieces of bowl are fitted together…

and held in place tightly with twine.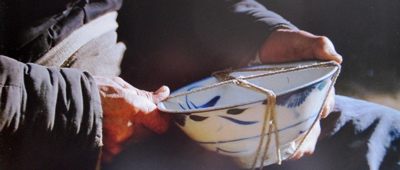 A wooden bow, with a diamond-tipped drill looped around a string, is pulled back and forth until a tiny hole is made in the bowl.
Drill close up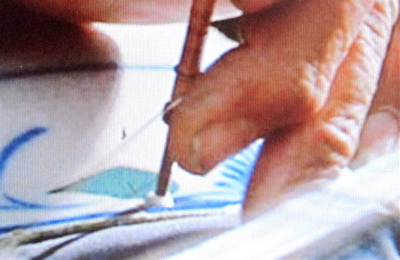 A small length of rigid brass wire is cut and hammered in to shape on the end of an iron mold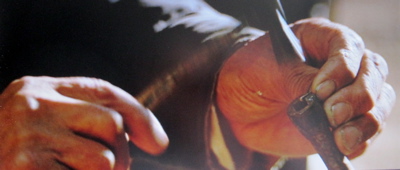 Staple close up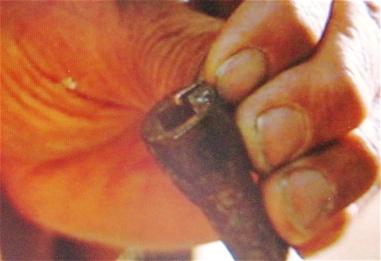 Finished staple is gently tapped in to the holes on the side of the bowl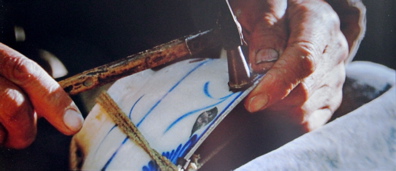 Film stills courtesy of Sony Pictures, with Zhongxi Zhang as the "Crockery Repairman"